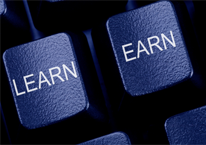 This free site's goal is to teach you real, practical
ways to make money on the Internet.
Here, you won't find any "super fast money"
programs, "get rich quick" scams, empty
promises, marketing fluff or meaningless
hype.
This resource provides free easy-to-understand crash courses, articles, guides, helpful tips and the general know-how that will enable you to take the plunge and start making good money on the web steadily – from your home computer.
It's perfect for beginners who lack any real experience in Internet marketing and forthose who want to understand the basic principles of online moneymaking.
Ready? Let's roll!

This website offers you a real opportunity to master the 'secrets' of Internet
money making – especially if you're just a beginner.
All the information on this site, the crash courses, the "for dummies" style
guides and the articles are 100% totally free.
We don't have anything for sale on this website and it doesn't require any type
of membership fee.
All the opportunities that we link to have been thoroughly checked and verified by us.
They are totally safe, credible and genuine – not scams, shady or junk offers,
which you may encounter elsewhere.
After reading and implementing the free tutorials, ideas and tips on this site, you'll
be able to turn your home PC into a great source of primary or secondary income.
Whether you do or don't have a website of your own, here you'll find effective
quick start guides that will shorten your learning curve and instruct you on how
to get paid handsomely from working online – in many different ways.
If you find this resource helpful, please feel free to share it with your friends.
They may find it extremely useful too.
Good luck!

Any rookie who wants to learn proven techniques, powerful strategies
and great practical ways to earn short or long term income from home,
through their personal computer.

Moms (or dads) who stay at home with their small children, who are
interested in becoming "Work at Home Moms" (aka WAHM) and in finding
legitimate and profitable online jobs that match their specific lifestyle.

College and university students who wish to ease the ongoing financial
burden and find flexible part-time work ideas that can fit their busy schedules.

Senior citizens and retirees who want to find an enjoyable, satisfying and
fruitful post retirement career, which will enable them to continue receiving
their pension while generating a healthy second income.

Entrepreneurs and people who are interested in starting a thriving
Internet home-based business and finally becoming their own bosses.

Individuals with disabilities, unique medical conditions and special needs
who wish to get paid for working from their homes.

People who prefer to work from their own homes, rather than from traditional
mainstream corporate business environments.

Unemployed and jobless people, who want to become self-employed, run a
small web-based business and start earning consistent income.

Individuals who want to substantially increase their low "9 to 5" day job salary
and search for worthwhile additional income opportunities.

People who are looking for an interesting and rewarding part-time job that can
fit almost any hectic schedule.

Individuals who are sick and tired of corporate life, culture, politics and
mentality, who wish to kiss the ever-going rat race goodbye and head for a
much better life, financial freedom and personal independence.

"Formal education will make you a living; self-education will make you
a fortune." (Jim Rohn)

"Success in life comes not from holding a good hand, but in playing a poor
hand well." (Denis Waitley)

"It is common sense to take a method and try it. If it fails, admit it frankly
and try another. But above all, try something." (Franklin D. Roosevelt)

"To succeed means that you may have to step out of line and march to
the sound of your own drummer." (Keith Degreen)

"Behind every successful man there's a lot of unsuccessful years." (Bob Brown)

"Ones best success comes after their greatest disappointments."
(Henry Ward Beecher)

"Very often we are our own worst enemy as we foolishly build stumbling
blocks on the path that leads to success and happiness." (Louis Binstock)