Free Guide: Making Money By Playing
Interactive Internet Games
More and more game portals offer you to
be paid, simply for playing fun
games on the Internet.

How can you earn cash from these game sites?
How much can you win? And what are
the best ways to get started?

This free guide explains how it all works.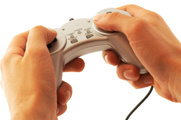 It sounds like the best offer of all: you sit in front
of your computer, playing addictive computer games that you really enjoy and you're also
making money from this time online.

Is it possible? After all, it sounds too good to be true – right?
It's time to better understand how the legal, mainstream online gaming industry makes money and how you can get a piece of the pie.

Many game sites live on advertising.
If they have no advertisers, they'll go broke and close their business.

The single most important factor for Internet advertisers is traffic: the number of web visitors that a gaming site gets.
The more traffic it has – the more it appeals to advertisers and sponsors.

In order to pull as much traffic as possible, game sites are willing to share their ad revenue with their audience: the online gamers.

It's a win-win situation: the sites get more traffic and the gamers get a chance to make money, while playing their favorite video games.

How Do "Paid to Play" Sites Work?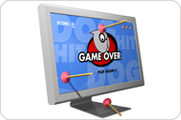 Different sites work in different ways. However, with most sites, you first need to register yourself and go through a signup process, in order to be able to play.
After all, they need to know where to send the check, in case you win (or notify you by email).

Some sites give you free credits to start your participation in multiplayer tournaments and competitions.
After finishing your credits and your free trial period, you need to deposit money if you wish to continue competing against other players for cash prizes.
Other websites are totally free and do not require any payment at any stage.

These sites include any type of game you can imagine: card games, puzzles, shooters, word games, trivia quizzes, strategy games, Scrabble, Solitaire, Big Money, pool, Chess and so many others.

Almost anybody can find a game that he likes and in which he can achieve good results.

How Much Can I Really Earn?
It depends on a few factors:

How much time you actually spend online, playing the various games.

How good you are: skilled players can win lots of games and tournaments
and win a lot of cash.
Poor players will probably not make more than $0 - $50 per month.
High quality gamers can make a lot of money (the best players can even make thousands, but they're in the minority).

"Will I Make Enough to Leave my Day Job?"
For 99% of the people - probably not.

Playing online games for money can generate some extra income.
However, in order to earn as much as in an average full-time job, you'll have to be a hell of a player and spend hours each day, playing.

"How Do I Get the Money?"
Usually, you're getting paid either by check or through Paypal

"Does It Cost Anything?"
Some sites are 100% free, others require a fee if you wish to participate in paid tournaments (but many offer some free credits to new members).

Pros and Cons
The coolest, most fun way to make money on the web.
If you're a really skillful player, you can generate a lot of money and win great cash prizes.
Really flexible "working" hours: you can play for money online whenever you want.

Great time killer when you're bored or in your spare time (which makes you some money, on the way).
In most cases, can't replace the income of an average full-time job.
For most people, it can work only for the short term and not as a long run approach for online income.
Here are a few large, reputable gaming sites that offer you to get paid for playing online.

IWON

King

World Winner
Links to Free Online Games – For Fun Only
The following game sites are just for fun.
You will not be paid for playing

Net Games

Miniclip