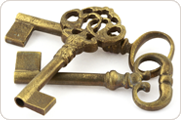 Most people who actually succeeded to turn the Internet into their primary source for long-term income have used the same keys to success.
I've summarized all the factors that can convert almost any average person to a successful web entrepreneur.
This list includes the personal ingredients and the characteristic components of probably every successful web entrepreneur out there.
If you want to be successful at your Internet home business quest, here is what it takes.

The Desire for Success
You'll need high levels of motivation, a passionate inner desire to succeed, a strong urge to achieve great things and a burning ambition to make it all work.
Having a passion for success, a vision for a prosperous and happy future, is where it all starts.

Overcoming Fears
You'll need to overcome personal fears and anxieties, which prevent people from making life-changing decisions.
It requires being courageous enough to make unorthodox decisions, face changes, take certain risks and sometimes, walk into uncharted waters.

Passion for Business
It's the desire to start your own business, become your own boss and reach financial independence, freedom and success.
It's the entrepreneurial spirit within you and the constant aspiration to run your own prosperous business, make it bloom and leave your mark.

Ability to Change

It's the ability to change and adapt to new realities, new lines of work and keep an open mind about new possibilities.
It's about your ability to do things differently from what you're used to, break your old patterns and molds and be creative when you're faced both with difficulties on the one hand and opportunities on the other.

Willingness to Learn
It's about being able to focus and learn new material, concepts and models, all by yourself.
It's the aspiration to ever expand your knowledge, expertise and skills, in order to improve, polish and fine-tune your performance and business results.

Optimism
You'll need to be optimistic, hopeful and have faith in yourself and in your ability to make it all work, eventually.
It's about keeping a positive mindset and always seeing your glass as half-full – not half-empty, while constantly striving to fill the other half.
It's also about not letting temporary failures or hardships, take you off course or affect your strategic decisions.

Taking Action
It's about being able to accept decisions and move from the theoretical world of thoughts and ideas, to the world of concrete action.
It's the willingness to try and test new ways, ideas and strategies.
It means constantly making the effort, investing considerable time resources and giving all you've got in order to ensure that you meet your long terms goals.

Patience
It's about being patient and knowing that although results take both time and perseverance, they do come to those who put up the work and practice self-discipline.
It's the ability to maintain the course calmly and steadily, even when results are not immediate.

Willpower
It's about being able to be stubborn (in a positive way), persistent and totally committed to your game plan.
It's about overcoming temporary difficulties and frustrations, maintaining self-control, confronting weaknesses and resisting temptations - all in order to achieve the long-term goals.
All of the above factors and parameters are the components that lead a person to online success and prosperity.
If you have these characteristics – great!
If you don't (and most people don't have them all) – grow them, it's doable.
Next Chapter:
How can you actually start making money?

OR

Back to the success story's first page


Back to Homepage