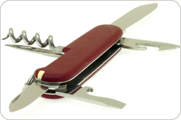 We've collected some extremely useful and credible small, home and online business related web resources, which you may find handy.
Note: each link will open in a new browser window.

If you think that your site should be added to this list – click here.

Enjoy!
Entrepreneur.com – The official website of Entrepreneur Magazine.
One of the largest and most popular content sites, which offers information, services and advice for current and aspiring small business owners and entrepreneurs.


AllBusiness.com - Provides information, products, and services for entrepreneurs, small businesses, and professionals to start, manage, finance and build a business.


Better Business Bureau – A nonprofit organization, dedicated to helping consumers and businesses maintain fair, honest and ethical relationships.
It's the authority on trust and integrity in the marketplace and on fraud prevention.


Federal Trade Commission - The organization's mission is to protect US consumers from unfair and deceptive trade practices.
The FTC website includes news and alerts, consumer protection and anti-trust information.


Business.gov - The official business portal of the US government, which helps small businesses nationwide, comply with federal, state and local regulations.


Small Business Administration – SBA's site covers small biz planning, finance, marketing, employment, taxes, and legal issues.


Score.org - A nonprofit association that offers business help and advice for new small businesses or for existing businesses that wish to expand and grow further.


Making Money Using Paypal - This easy-to-understand guide thoroughly explains all the unique ways to earn money on the web with Paypal.


Here's how to do it in three easy steps:

First, go to our
Link to Us
page and place either one of our buttons or a
text link on your site.

After our link (or button) is placed on your site, go to our
Contact Us
page
and send us an email with all your site's details: site's name, URL,
description, contact name, email address and where our link has been
placed on your site.

Within a few days, you'll receive an email from us, approving or rejecting
your website submission.