How Fast Can You Start Earning Money Online?
A Reality Check!
Many ambitious newbies wish to find the
fastest ways to make money
using the internet.

But is it possible to expedite the
process drastically and succeed
relatively quickly?

This short article has some
realistic answers!

Let's Start With the Basics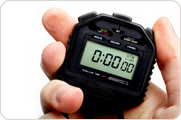 Making money and making money fast are two totally different issues.

There's no doubt that with the right mentality, realistic expectations and with the willingness to learn and invest the required time and effort,
you will be able to make good money on the net.

However, if you're expecting to use the net as a fast income source or as a place where you can generate instant revenues, you'd better take a pause and recalculate your strategies.

The Internet business is not some exterritorial magical place, where things happen immediately and easily.

The online business world is indeed a unique business arena; but many of the rules which apply to "normal" businesses apply here too and it's wrong to expect otherwise.
Setting Your Expectations Right
Let's give you some tools that will help you to assess how soon you can see money from working online – whether you have or don't have a website.

If you have a site, you can "plug in" money-making elements, like ads, sponsored links or affiliate programs pretty quickly, even within several hours.
However, since the actual payment is usually being sent once a month, you'll have to wait a few weeks until the money will land in your bank account.

Please bear in mind that this is the best case scenario, where the elements and strategies you used with your "first strike", actually worked wonderfully and generated a nice income for you.

Naturally, your first try may not succeed as you expect and you will need some more time to use other means and conduct more tests and experiments on your site in order to reach your financial goals.

Even if you don't have a website currently, you can still generate income from various online sources like selling stuff on eBay, taking paid surveys online, writing for money, etc.

Here too, you will not earn your cash that fast (excluding the eBay option, which does get you paid almost instantly).

Most companies pay their online workers / partners once a month and not before they have reached the minimum payment threshold (which can be $25, $50 or sometimes more).

Therefore, don't expect to see immediate cash in your account.
It will definitely take at least a couple of weeks before you'll actually get paid for your hard work.


The desire to see the money roll into your pockets quickly is more than understandable.
Who wouldn't like that?

However, if you wish to avoid bitter disappointments, deep frustrations and ultimately, failures, you need to adopt a solid and realistic game plan.

Succeeding in the Internet business takes time.
If you don't have this time or if you need the money urgently, look for other money-making opportunities, outside the web.

If your intentions are indeed serious, take the long way.
The "short way" will not bring you far anyway.

The longer route is much safer, it will give you the knowledge and the skills that you must have in order to meet your ambitions and it will surely decrease the number of unnecessary mistakes.