Working from Home Using the Computer - Is it
the Perfect Match?
The idea of working at home, using your
PC to make money, appeals to many
for obvious reasons.

Is it really possible?
How hard is it?
Should you give it a shot?

This short article has
some realistic answers!

Making Money with Your Home Computer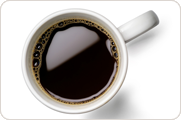 Visualize the following picture: you sit at home,
on your comfortable cushioned chair in front of your computer.
You take a sip from your hot cup of coffee,
clicking on your keyboard for a couple of minutes… and BANG – you have just earned $300.

Sounds great – right?
Isn't it a wonderful way to generate income and make tons of cash?
Well, here's a piece of advice: forget this image as quickly as possible, because it's not going to happen that easily.

Yes, you certainly can work from home with your PC and yes, it can turn out to be an exciting and extremely profitable job. But if you want to boost your chances of success, you should adopt a more realistic and less rosy approach, before you even consider starting.
The "Work From Home" Internet Buzz
The web is bombarded with online sellers and marketers who aggressively push various "systems" and "business opportunities" that are supposed to bring you wealth, happiness and massive profits.

Lots of such opportunities are totally legitimate ones, some others are pure scams and you should beware of automatically believing anything that you read online – especially from "too good to be true" promises and offers.

Remember, home-based business is not a synonym for "easy money" and in order to really pull it off, you'll need to work very hard on a daily basis.
There are no free meals, not in the "real world" and definitely not online.


Your Computer is a Tool, Not a Magic Stick
Your PC is a tool, not some magical moneymaking machine.
If you'll use it smartly, you can definitely succeed and generate handsome profits and even a permanent income.
However, it's not a magic stick and nothing will happen automatically.

Working from home is indeed great and making money with your computer is absolutely wonderful, but at the end of the day it's YOU, your ambitions, talent, skills, motivation and dedication that will bring you to the "promised land" – not the machine.

If you'll take the time to learn how to use your computer and your Internet connection to your advantage and not be afraid to experiment, upgrade your skills and even err from time to time (everybody does) – you have a good chance to turn your home PC into a successful home business and even live well from it.